Sunday, August 19, 2007
Some Wonderful News In Bloggityville!!!!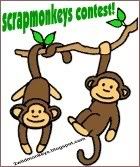 So I just came across this wonderful Blog
Three Wild Monkeys!
that I am going to partial to for obvious reasons!!! :-) But she is having an awesome
Scrapbook giveaway
. I dont know about you all, but I have been slacking in the scrapbooking department. My older son is caught up all the way til his 3rd birthday but my youngest only has the first week of his life done. How awful is that. I could totally use these products because I do have it on my list of one of the many things to do Mid-September when the cooler weather approaches!
So head on Over and check out her
blog
!!! It looks like so much fun!!!
Now on to more news.....
Trista over at
The Pumkin Patch
is hosting an "
End Of Summer Party
" in bloggy world! You can post pictures of summer fun, or recap on your summer as it comes to an end. You can even post and host giveaway fun at this awesome party! The Party will run from Monday August 20th through Friday August 24th. So Come and Join in on the fun!!! To find out the details on how to link up visit the "
End Of Summer Party
".
Labels: Contest, Meme/Carnival
posted at
8/19/2007 01:10:00 PM
3 comments